Executive Offices
- bespoke office space for every business need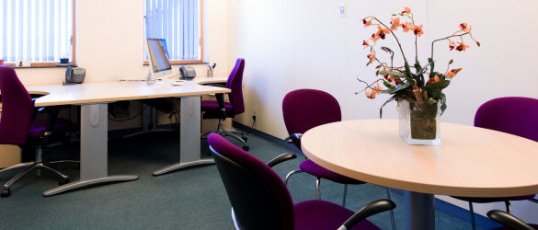 When we go into business, very few of us set out to become property managers. However, as businesses change and grow, we often find ourselves spending more time looking after the mechanics of running the business than focusing on our core business. That is where Kinetic Business Centre comes in. We specify, devise and operate your office infrastructure, on fully flexible contracts based on one, three, six or twelve month licenses and with no set up costs.
Bespoke office space – because the only fixed things are our outside walls
Sounds incredible, doesn't it. With the exception of our four external walls, we can move, reconfigure and adjust just about every wall in the building to provide bespoke offices to meet the exacting standards of our varied customers.
Space for up to 30 people
Designed to cater for anything from a single person office to an office for 30 people, our specially configured building structure means that whether you want a large open plan office or offices within offices – such as an Executive's office, a small meeting room, telesales environment or partially partitioned rooms – we can provide it.
This uniquely flexible system is invaluable in meeting the needs of clients that are as diverse as a Radio Station and a Trading Floor, and enables us to provide truly tailor-made office solutions for every type of business.
Comfortable offices efficiently managed
All offices have modern attractive furniture with a range of storage options. Each also has double-glazing and individually controlled air conditioning activated on room occupancy. Our air conditioning system operates 24 hours a day, 7 days a week.
Added features and facilities include:
A reception area staffed from 08.30am to 17.30pm
Lift access and disabled facilities making it ideal for those with special needs.
An air-conditioned gym and showers for the use of licensees and their employees.
Private car parking for licencees, staff and guests
Lockable bicycle bays.
On-site maintenance team
We maintain a continuous development programme to keep our offices up-to-date and our full-time maintenance manager is always on hand to facilitate any moves and adjustments needed.
Environmentally responsible
We believe strongly in being a good carbon citizen and, as part of that commitment, we take our environmental responsibility very seriously. Motion sensor lighting, eco air conditioning, paper and card recycling and eco kettles are just part of the measures we take to mitigate our carbon footprint.